Tennis players come and go, but tennis legends live on forever... Novak Djokovic will be among those legends after his sixth win at Wimbledon and his record-tying 20th Grand Slam crown. The world No. 1 now stands shoulder to shoulder with his rivals Roger Federer and Rafael Nadal; the big three iconic champions who own astonishing 20 major championships apiece. As it stands right now, Nole has already captured several untouchable records to his name.
Here are 5 records that make Novak Djokovic the best tennis player of all-time
5. ATP Masters 1000
Novak is the only man in history to win all 9 masters championships. His 36 Masters titles tie him with Rafa Nadal for all-time lead. By completing the set of all nine Masters singles titles by 2018, Djokovic became the first and only player to achieve the Career Golden Masters.
4. Grand Slam double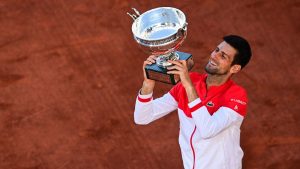 Getty Images Djokovic beat Nadal in Paris this year and captured his 2nd Roland Garros title last month which makes him the only man in the Open Era to win each of the 4 Grand Slam titles twice. Not even the legendary Rod Laver can make that claim because he won his first Calendar Slam in 1962 as an amateur and his second Slam in 1969 as a pro in the Open Era.
3. Most titles won since he turned 30
Age is just a number for Novak Djokovic, as he's only getting better by time. Since celebrating his 30th birthday back on May 22nd of 2017, Novak has won 8 majors and counting. This is mind-blowing! To make it clearer for you, Roger Federer and Rod Laver have won 4 Slams after turning 30, while Rafa Nadal has 6 majors after he turned 30.
2. 20 Grand Slams and 6th year-end World No. 1 finishes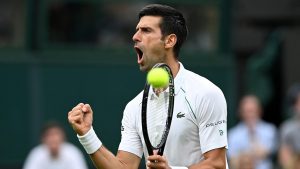 Getty Images These are undoubtedly the two most vital records in men's tennis. Right now Novak, Rafa and Roger are all tied up at 20. If Djokovic takes the US Open and complete the Calendar Slam in New York, he will own sole possession of most major titles. His 6th year-end No. 1 finishes equal American tennis player Pete Sampras, yet he's still on his way to break that record this year!
1. No one in ATP history has been crowned world No. 1 as long as Djokovic has
Back in March, 2021, Nole broke Roger Federer's record for most weeks ranked No. 1 by the Association of Tennis Professionals (ATP). Djokovic's latest top ranking is the 330th (still counting) of his career, while Federer held the previous record at 310. Follow us on
Twitter
!