Basketball legend Kobe Bryant dies aged 41 in a helicopter crash. Former LA Lakers basketball star's death was confirmed by TMZ. Bryant was reportedly travelling with four other people in his private helicopter when it crashed, killing everyone on board. The cause of the crash is under investigation. Witnesses reported hearing the helicopter's engine sputtering before it went down. Bryant was regarded as one of the greatest NBA players of all time. A five-time NBA champion with the LA Lakers and a two-time Olympic champion retired in 2016 after 20 seasons with the Lakers. The basketball legend was an inspiration for many people in the world and he has many quotes, which will help people to overcome every challenge.
Here are the top 10 quotes of Kobe Bryant.
Everything negative – pressure, challenges – is all an opportunity for me to rise.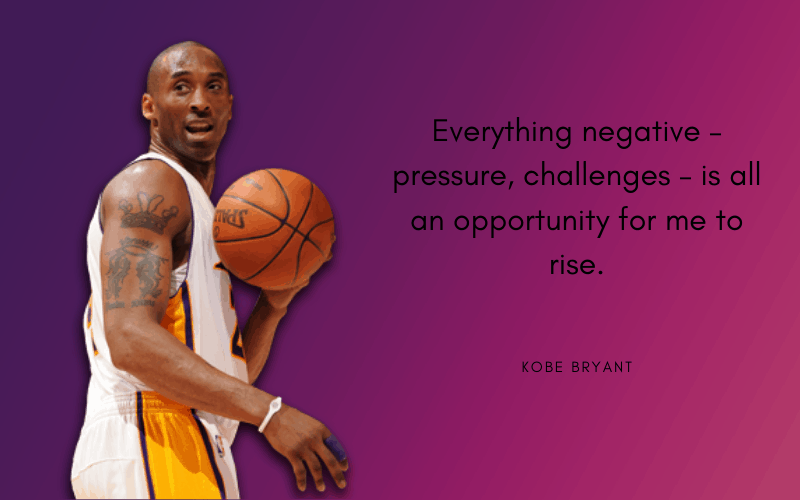 The most important thing is to try and inspire people so that they can be great in whatever they want to do. Use your success, wealth and influence to put them in the best position to realize their own dreams and find their true purpose. Once you know what failure feels like, determination chases success. I'm extremely willful to win, and I respond to challenges. It's not a challenge to me to win the scoring title, because I know I can. The beauty in being blessed with talent is rising above doubters to create a beautiful moment. I'll do whatever it takes to win games, whether it's sitting on a bench waving a towel, handing a cup of water to a teammate, or hitting the game-winning shot. The moment you give up, is the moment you let someone else win. If you're afraid to fail, then you're probably going to fail. I have self-doubt. I have insecurity. I have fear of failure. I have nights when I show up at the arena and I'm like, 'My back hurts, my feet hurt, my knees hurt. I don't have it. I just want to chill.' We all have self-doubt. You don't deny it, but you also don't capitulate to it. You embrace it.