Football, like any other sport, needs investments.  Over the past decade, the investments of the world's biggest club have highly grown and here is the ranking of transfer fee investments by the club during 2010-2019: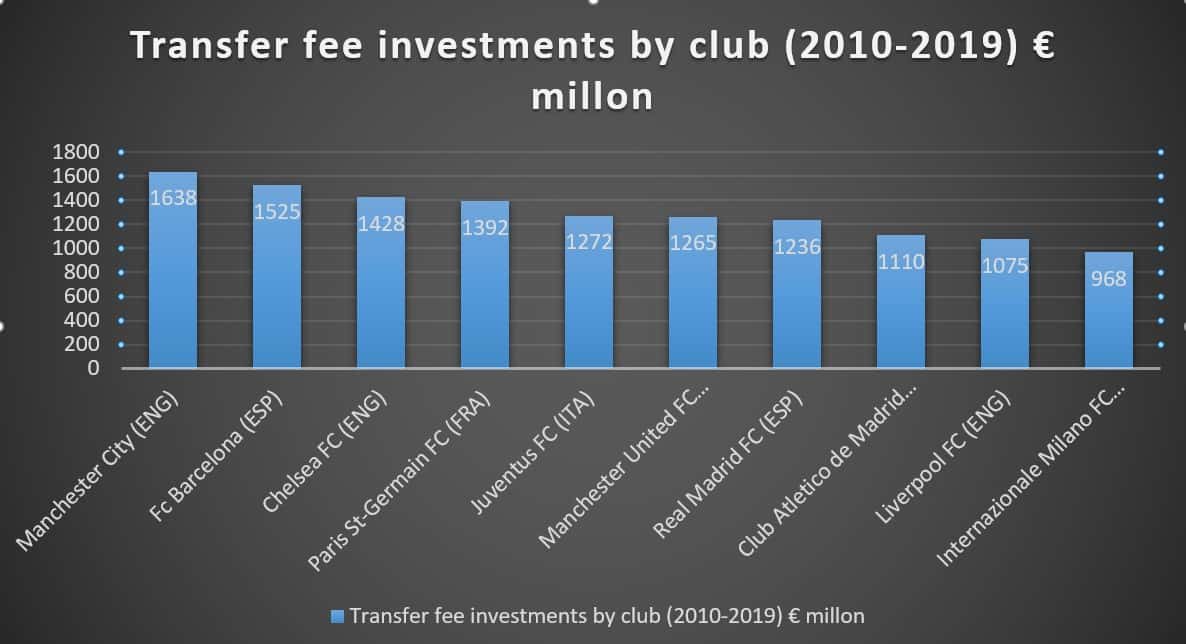 According to
CIES Football Observatory
, no club has spent as much as Manchester City. In 2008, the football club was bought by Abu Dhabi United Group owned by an Emirati entrepreneur Khaldoon Khalifa Al Mubarak. Since then, Citizens have got loads of famous and talented players, including Sergio Aguero (40 mln €), Fernandinho (40 mln €), Kevin De Bruyne (76 mln €), Leroy Sane (50.50 mln €), John Stones (55.6 mln €) and many more. Thanks to all of these transfer investments Manchester City won 13 domestic cups including 4 Premier League championships and 3 English Supercups. In the second place, there are five-times Champions League winners Barcelona with the transfer fees over 1.5 billion euros. One of the most expensive transfers for Barcelona happened in 2013 when Brazilian superstar Neymar signed a five-year deal with Blaugranas for 88.2 million euros. The following year Catalan team bought another South American superstar: Uruguayan Luis Suarez for 81.7 million euros. Next, huge signings were in 2017 when FC Barcelona bought Brazilian midfielder Philippe Coutinho (145 mln €) and French winger Ousmane Dembele (125 mln €). This summer the Blaugranas bought French forward The Little Prince himself, Antoine Griezmann for 120 million euros. Chelsea are on the 3rd position with transfer fees over 1.4 billion euros. Chelsea's major signings include Spanish forwards Fernando Torres (58.5mln €), Diego Costa (38.8 mln €), Alvaro Morata (66 mln €), Belgium winger Eden Hazard (35 mln €), Brazilian winger Willian (35.5 mln €), Belgium forward Mitchy Batshuayi (39 mln €), French midfield N'Golo Kante (35.8 mln €), Spanish goalkeeper Kepa (80 mln €) and Croatian midfield Mateo Kovacic (45.5 mln €). In 2011, Paris Saint-Germain were owned by Qatar Sports Investments and like Manchester City, became a two state-owned club. And Since then PSG transfer budget have enlarged a lot. In 2010, their most expensive transfer cost 5 million euros but already in 2011, it was 42 million euros, for Javier Pastore. Next season French champions bought Brazilian defender Thiago Silva for 42 million and Sao Paulo winger Lucas Moura for 40 million euros. Their major transfers include contracts with Edinson Cavani (64.5 mln €), Marquinhos (31.4 mln €), David Luiz (49.5 mln €), Angel Di Maria (63 mln €), Julian Draxler (36 mln €), Kylian Mbappe (135 mln €) and, of course, the biggest transfer deal in history: Neymar signing for 222 million euros. Italian champions Juventus are in the fifth position. In previous years biggest transfers for Juventus have been Paulo Dybala (40 mln €), Gonzalo Higuain (90 mln €), Federico Bernardeschi (40 mln €), Douglas Costa (40 mln €), Joao Cancelo (40.4 mln €), Cristiano Ronaldo (117 mln €), Danilo (37 mln €) and Matthijs de Ligt (85.5 mln €) deals. Since then, Juventus FC has won 16 domestic cups, including 8 Serie A championships. The last five positions share twenty times Premier League champion Manchester United, thirteen times Champion League champion Real Madrid, ten times La Liga champion Atletico Madrid, this year's Champions League winner Liverpool and eighteen times Serie A champions Inter Milan FC.