FiveThirtyEight's supercomputer has predicted the chances of teams making the 2022-23 Premier League top four.
The English top-flight is underway as the league table continues to fluctuate. After a lasting and comfortable place at the top of the table, Arsenal got second to Manchester City, who are currently leading the league table with 82 points, yet just one point ahead of the Gunners. City winning the league will be no surprise, as Guardiola's squad is in fantastic shape, competing for a legendary Treble.
Currently, the top four includes City, Arsenal, Newcastle and Manchester United. Despite recent victories, Liverpool have lost many point along the way and are currently below the Top 4 with 62 points.
According to FiveThirtyEight, Manchester City will go on to win the league with a tiny possibility or Arsenal re-acquiring their reigning place.
Meanwhile, Arsenal, Newcastle and Manchester United will finish in the top 4. The Gunners get a 100% chance, the Magpies get a 92% chance and the Red Devils get a 78% chance to finish in the top four.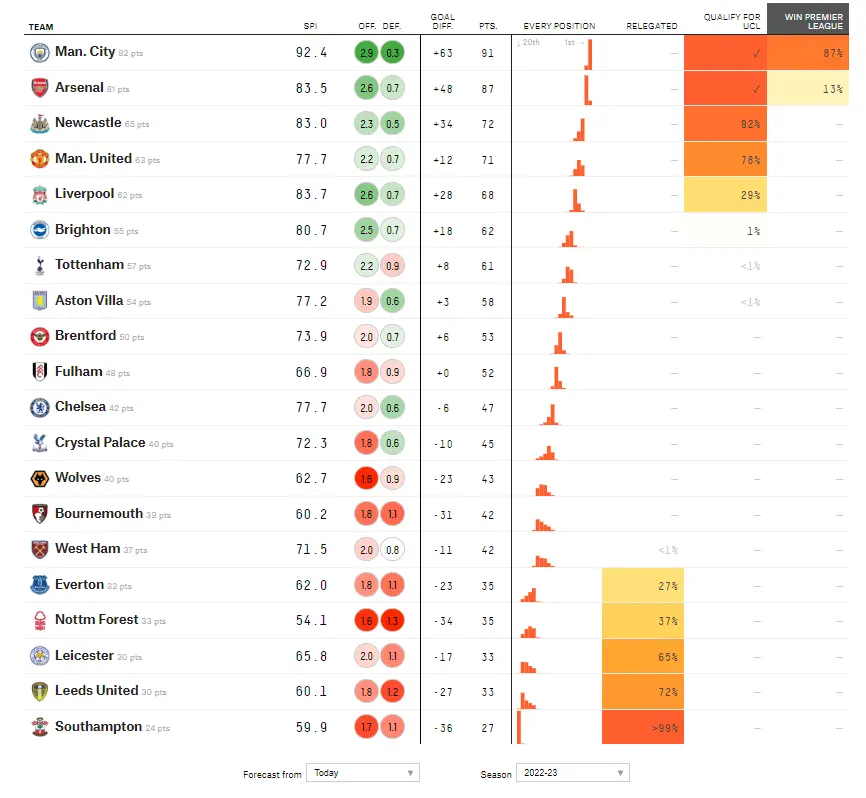 Image source - FiveThirtyEight source - FiveThirtyEight / Join us on Telegram!/ Follow us on Twitter!